Loylogic obtains United States Patent for its "Slider"
Zurich, Switzerland and Atlanta, GA USA – Loylogic further strengthens its commitment to leadership in customized reward solutions for loyalty programs. On April 13, 2010, the US Patent and Trademark Office registered the 'Slider' under Patent No. US 7,698,185 B2.
Loypay™- an innovative points-plus-cash payment technology with a difference
In order to ensure that its innovative and dynamic solutions are protected and nurtured for its global clients, Loylogic has kicked off 2010 by gaining a significant patent for technology that lies at the heart of its reward mechanisms. The granting of this patent enables licensed loyalty programs to deploy exclusive, cutting-edge technology in differentiating their programs.
From the first moment of its launch, Loypay™- also known as the 'Slider'- was set to be a star, offering significant benefits both for program managers and their loyalty members.
It's an industry precedent that allows for fully flexible points-plus-cash reward payment. In addition, based on a proprietary algorithm, the Slider generates dynamic per-point-values of up to $100 per point - at unchanged costs to the program sponsor.
"The slider is among the most outstanding loyalty innovations since the creation of the first FFP by American Airlines in 1983."
Randy Petersen, Editor of Inside Flyer, Sep. 2006
It enables program sponsors to incorporate a point of difference to engage members by giving them total control over how they fund their own reward redemptions; thereby providing a feeling of intimacy with the program.
Through a fully flexible payment option, members can redeem with a mix of loyalty points or miles, plus currency.
This gives customers freedom of choice and lets them integrate their own reward aspirations with their lifestyles. If they want something quicker than they might be able to obtain it with miles/points collecting, then they can call the shots with the 'Slider.' Customers can choose the construct of their payments to be as little as 1 point, with the remainder in cash, or the other way round: $1, with the remainder in points.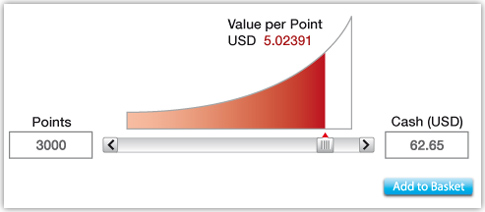 The real and perceived value of the Slider
Programs which use the Slider allow their customers to gain value from every single mile they collect. Building in value like this from the very start, at the basic entry level, sets loyalty programs apart from their competitors and gives customers exactly what they want. Not only is there a very real value in their points but they also perceive it as a way of accumulating currency which offers a true and more immediate benefit, which is a tangible mark of gratitude from the sponsoring company in recognition of its customers' loyalty.
During the 2008 Freddie Awards voting process, Loylogic asked frequent flyers for their opinions about redeeming their miles. When asked how fully-flexible miles-plus cash reward payment would increase the value of their FFP miles, 94% responded positively, with 26% indicating it would 'change their world'.
Recognition
Setting industry standards has already reaped rewards for Loylogic. The Slider was named the winner of the 'Industry Impact Award' at the 2007 Freddie Awards in Washington D.C., and played an integral part of other subsequent success for the Etihad Guest customer management team at the 2008 Freddie Awards, winning the following awards:
Programme of the Year - Airlines Europe, Middle East, Africa
Best Award Redemption - Airlines Europe, Middle East, Africa
Best Airline Web Site - Airlines Europe, Middle East, Africa
Licensed, and now Patented
Loylogic has already licensed the now patented 'Slider' with various loyalty programs around the globe; these programs now have a fully-protected element of differentiation that they can rely on to strengthen the attraction of their own propositions.
For more information on use or licensing of the 'Slider', please contact Gil Guenberg, General Counsel at Loylogic ( gil.gruenberg@loylogic.com).
About Loylogic
Loylogic is the world's leading innovator and creator of points experiences, insights, commerce and engagement. By tantalizing members with more choices and arming programs with insights on behavior – anticipating both present and future needs – we deliver powerful solutions that amplify engagement and build loyalty.
Founded in 2005 with offices around the world and a global content network of more than 500 merchants and 2,000 online stores offering millions products and services, Loylogic, the new paradigm of points-based e-commerce and e-payment solutions, is the partner that the world's leading loyalty programs trust with making their points and miles loved more. For more information please visit loylogic.com.
Information
Loylogic Inc.
Freihofstrasse 22
CH-8700 Kuesnacht/Zurich
Switzerland
Phone: +41 43 500 51 55
Email:
press@loylogic.com