The smart convergence of luxury, loyalty, and online retail
Dezerved is an exclusive online shopping destination where loyalty program members and customer communities can use cash, points, miles and credits on a curated selection of exciting offers from leading global consumer brands. The promise of unbeatable discounts on the world's most coveted luxury goods, and a curated selection of elite experiences, make this an absolute game changer.
Enter a world of points-powered incentives
Dezerved members benefit from incredible time-limited and intriguing offers. Moreover, they're rewarded for active participation with affordable payment options that bring points and miles into constant play. The result is a one-of-a-kind luxury marketplace for select members that's set to transform the online shopping space with its combination of payment flexibility and stylish allure. Its essential infrastructure, ease of use, and elegant aesthetic all combining to create a platform fit for today.
Dezerved Solutions
For loyalty programs and closed communities
Dezerved allows loyalty programs and consumer communities to boost visibility for a minimal outlay with maximum efficiency. Inside our exclusive marketplace, members are able to spend points or miles at will, leading to ultra-low cost redemption. Programs and communities can grow member engagement and satisfaction without further investment, unburdened by set-up costs or running fees. They can also explore new relational models within a closed community context at no additional risk, supported by our dedicated staff and full-spectrum service offering. Our bespoke marketplace is ready and waiting to service you today.
For global retail brands
Dezerved enables leading brands to acquire an entirely new customer base, unlocking fresh streams of revenue. By partnering with our members' only platform, brands gain access to millions of affluent consumers who belong to some of the world's premier loyalty programs and consumer communities. The Dezerved shoppers can be targeted with time-limited campaigns, allowing for the sale of existing inventory within a closed community context. Similarly, these same affluent memberships can be targeted by key segment and geographic region, allowing for fully-customizable product offerings and promotions. Brands also retain total control over pricing and assortment throughout the whole process. Moreover, Deserved's stylish aesthetic and sleek user experience serves to uphold brand integrity and bolster reputation as well.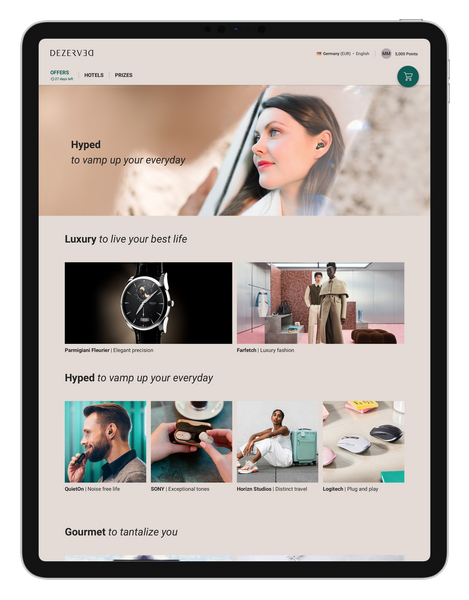 Dezerved Services
The Dezerved team handles all assets and promotions, implementing exclusive time-limited offers and direct marketing initiatives. We also provide full tech support, ensuring a smooth transactional flow for all partners and members. Whatever your commercial objectives, or strategic priorities, we are here to help you achieve them with our seamless integration, continuous management, and incisive data reporting.