Welcome to Pointspay. Welcome to the future.
Pointspay is a highly innovative e-payment platform with its own fast-growing proprietary merchant network. Pointspay directly connects your points (or miles) to leading online as well as in-store merchants worldwide. Applying Loylogic's patented points-plus-cash slider, your members can now shop with their preferred online merchants and either pay with points, or pay with cash and collect points, adding a rich revenue stream to your program.
Shopping with and earning points online – made easy
For all Pointspay participating programs, we design a co-branded Pointspay shopping mall that integrates fully with your existing program website. Leveraging our proprietary payment technologies, we can add any desired online merchant to your program and, even more important, provide a seamless points shopping experience to your members.
Last but not least, we've developed a powerful online shopping assistant in the form of a browser extension: The Pointspay shopping assistant makes sure that your members earn points wherever they shop online and benefit from exclusive Pointspay deals offered only by our merchants.
Add any online merchant, go live in just weeks
Pointspay fully embodies Loylogic's belief in The Power of Choice. The ability to add any online merchant to your program provides unparalleled flexibility for you, and unparalleled ease and value for your members. Pointspay opens the door to top-notch brands and lets you promote new shopping categories such as fashion or groceries. Incredibly, your new Pointspay shopping mall can go live within a few weeks: A single integration with Loylogic lets your members access an exciting online shopping world.
Not surprisingly, Pointspay is growing at warp-speed – it drives collecting and redeeming points online more than any other solution on the market, making it a true crowd-pleaser.
Pointspay Shopping
Pointspay gives your members the opportunity to collect or redeem points when shopping online at Pointspay-participating merchants worldwide. After loading up the shopping basket, members simply click on the Pointspay button to check out (in a process much like PayPal checkout). At that point, they can decide whether to pay with points or to pay with cash and collect points. The transaction happens in real-time, so that all points collected are immediately credited to your members' accounts.
In addition we enable your members to redeem and collect points when shopping online and in-store at millions of Visa or Mastercard-accepting merchants worldwide. With one click in the Pointspay shopping mall, the Pointspay shopping assistant or the Pointspay mobile app, your members can load a personalized virtual or plastic Pointspay prepaid card with any of 160 currencies using your points. They can then use the card immediately to purchase goods or services online and in-store. And with select online merchants, your members will even collect points on their purchase and benefit from exclusive Pointspay deals.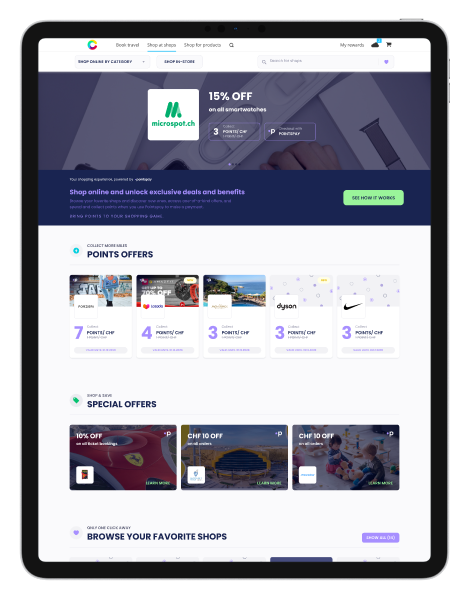 Pointspay Services
Pointspay is completely serviced by Loylogic's global team. This includes e-commerce marketing and operations, acquisition of online merchants worldwide, technology management, highly-tuned fraud monitoring as well as an agent help desk. Rich reporting dashboards support your dedicated account team as they help you build market-leading performance and reach your program goals.