Earn and Burn online, Get Loyal at Loylogic
Founded in the year 2005, Loylogic Inc. is an international exchange and clearinghouse for virtual currencies like loyalty points and miles. Loylogic develops and provides international eCommerce and mCommerce shopping solutions for loyalty points with innovative loyalty programs worldwide.
The management team consists of Dominic Hofer as CEO and Co-Founder, Lars Holmquist as COO, Piyush Khandelwal as CTO, Sandra Erismann as CFO and Gil Gruenberg as Head of Legal & Compliance. LoyLogic is headquartered in Zurich, Switzerland with international offices in Atlanta/USA, Dubai/UAE, Brighton/UK, Riga/LAT as well as Pune/IND.
Loylogic's turnkey solutions which are offered as Software as a Service (SaaS) models enable the loyalty program clients to increase sales and member engagement by integrating innovation in loyalty programs with state-of-the-art web or mobile technology as well as the fastest-growing global merchant network.
The clients of Loylogic span over various sectors from the financial services (payment, insurance, etc.), travel (hotel, airline, etc.) to telecom and retail industries. Customized reward solutions are provided to card reward & coalition loyalty, as well as to frequent flyer, guest, and player programs.
The turnkey solutions offered by Loylogic are:
Loylogic EarnOnline – This solution allows the program members to earn more points or miles while shopping online from nearly every country across the globe.
Loylogic BurnOnline – This solution allows the program members to redeem points or miles for all the products and services in the program-branded online reward shop from almost every country across the globe.
Pointspay: Pointspay Inc., a subsidiary of Loylogic, was launched in Jan 2012 and runs a mobile ePayment solution which enables members of loyalty programs to redeem points or miles in store and/or online at over 30Mn merchants across the globe. It is a unique redemption solution used to reward the best program members and allows thanking them for their loyalty.
This is a demo of Pointspay:
In addition, Loylogic Inc. offers consulting services in loyalty strategy. A set of related loyalty support services are also offered like dedicated account management, IT hosting and maintenance, mall content development and management as well as rich online insights and reporting dashboards.
About Loylogic: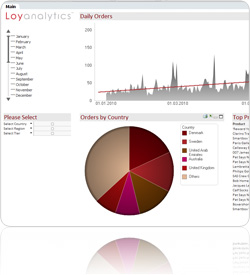 Innovation – The company has patents, numerous patent applications in process, and have launched eight innovations in only six years in the industry.
Technology – Unique, fully proprietary, totally integrated & truly global points earn and burn, shop and mall technology platform.
Network – A global and fast growing network of 1,500 plus merchants and affiliate partners who provide access to around 10 million online shopping offers.
Engagement – Planning and execution of personalized online communication through proprietary Loyanalytics insights and reporting platform
Loylogic has clients like Accenture, American Express, L'Oréal, Maritz Loyalty, MasterCard, Sapient, Tesco, Unilever, Amazon, Avis, British Airways, Cathay Pacific, Citibank, and many more.
In 2013, in order to leverage its global shipping volume to reduce costs and ensure high quality tracking services to online shoppers, Loylogic had partnered with a leading global shipping company. The new partnership will allow full visibility of all shipments from pick-up to delivery. Increased efficiencies also facilitate streamlined customs clearance. Complete shipping integration with time and transit estimators for merchants; and automatic email notifications of shipment milestones is foreseen to result in faster order processing and lower costs.
Recognizing consolidation opportunities, Loylogic wanted a partner who had a huge international network, attractive pricing and powerful tools and services which increased convenience to merchants along with loyalty programs and members. Loylogic now offers a globally consistent and fully-integrated shipping proposition to leading loyalty programs, after partnering with the top shipping company across the globe. Loylogic has been shipping to 151 countries, and this improved proposition will strengthen its position further as an international and dynamic eCommerce player.